---
The Chronicles of Sarnia or The Wyoming wind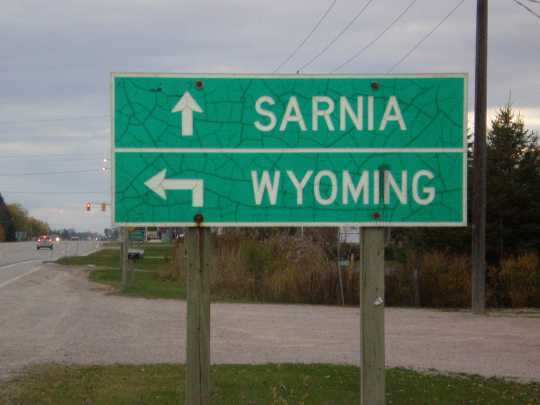 Entry #6 • 12th of November, 2014
Entry translated by Pierre-Luc Roussel.
Read the entry in french.
If you want to help me to spellcheck (french) or to translate (spanish) this entry, click here.
---
Today the wind was terrible, really. When biking along 10 km stretch of wind turbines, one can doubt that one of the two directions won't go very fast. So naturally the wind was right in my face. It took 2 hours to pass the windfarm, without exaggeration. Thats right, like 5 km/h. What's more, I was chased by dogs four (!) times today. It had only happened twice in the whole trip until now. As always, more fear than harm... however one time a dog popped out of nowhere without warning (they usually bark from a while away) and surprised me. As a reflex i gave a tug towards the road and got honked. Five seconds later I woulds have gotten hit...
In Sarnia, at least I had fun. I was lodged as Simone's, a brazilian student (the brazilian government has a sort of agreement with the institute on petrochemistry here). It was one of her roommate's birthday and about 20 brazilians were over for the occasion, from many different part of the country. If I ever decide to extend my trip to brazil after Buenos Aires, I have a lot of contacts!
---